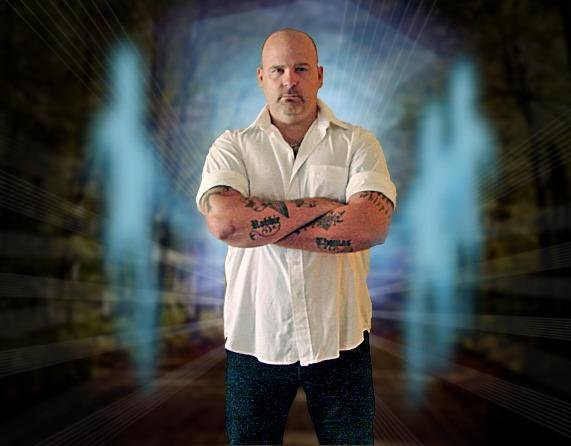 Episode 26 - Special Guest Psychic/Medium/Criminal Profiler Robbie Thomas
Robbie Thomas does what other crime psychics stop short of and what the victims of crime praise! Featured in magazines, radio, television and film, Robbie Thomas has become among the most sought-after psychics today.
Robbie has been called a true 'Psychic Bloodhound', who goes straight for the throat of injustice through his passion and talents to 'see' and 'feel' from both criminals and victims alike. His accuracy has found him in the firing line many times while helping to assist in cases involving dangerous individuals and organizations. Few psychic profilers can claim as many written testimonials as Robbie Thomas!
Robbie Thomas starred in the critically acclaimed hit movie, Dead Whisper, where first time ever evidence of direct communication with the other side was caught on film and EVP (Electronic Voice Phenomena) with a Psychic Medium. Critics worldwide have raved about this astounding breakthrough and have declared Dead Whisper a "classic".
Robbie Thomas has given to many what most would call the spiritual experience of their lives. Connecting to the other side bringing messages of hope and encouragement throughout diverse experience: sixteen years of helping with murder and missing persons cases, bringing resolution to families, ten years of online and personal sessions, and three years working on many prominent programs in television, radio and print is what Robbie is committed to.
---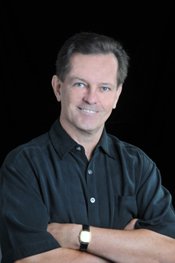 Episode 25 - The Most Convincing Case of Reincarnation Ever?
This week I will be joined for the full two hours by Bruce, Andrea, and James Leininger, authors of "Soul Survivor", the convincing story of son James, and how he may be the reincarnation of a WWII pilot. You decide!
Bruce C. Leininger graduated with a B.A. from Fairleigh Dickinson University and an M.A. from Columbia University Graduate School. In 1990 he relocated to Dallas, Texas. There he met and married Andrea Scoggin.
Andrea Scoggin Leininger pursued a professional ballet career for 10 years, dancing with various companies across the country. Her dance career took her back to Dallas, Texas, where she met and married Bruce Leininger, to whom she has been married for 17 years. After retiring from ballet, Andrea transitioned into a General Accounting career, which she enjoyed until the birth of her son James in 1998, when she left work to become a full-time wife and mother.
James started showing an inexplicable knowledge of WWII planes at at early age.
His family believes he is the reincarnation of this man, James Huston.
---
Episode 24 - Guest Caller Carrie from Magic Paranormal
---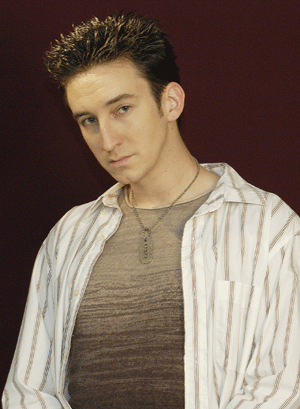 Episode 23 - Special Guest Dustin Pari from "Ghost Hunters International".
Dustin Pari from "Ghost Hunters International" is an investigator, researcher and all around good guy on the Syfy series. Dustin was originally seen on "Ghost Hunters" after being given the chance to join TAPS by Jason Hawes and Grant Wilson. He is a proud father of three, and is happily married to his beautiful wife, all of which he misses greatly while traveling to film the show around the globe. Dustin has been interested in the paranormal since he was a child, and has been investigating since his early teens with friends at local hot spots. When he's not hunting ghosts, Dustin is busy holding down three "normal" jobs. In his free time (if there is any), Dustin Pari enjoys spending time with his family, writing satirical social commentaries, eating cereal and watching cartoons.
---
Episode 22 - Special Guest Demonologist Keith Johnson
Keith, along with his wife Sandra, are regularly called upon to assist individuals in dealing with alleged malevolent paranormal phenomena or potential inhuman infestation in their homes, and together have over 30 years of experience as paranormal investigators. Keith has had an interest in the paranormal since he was a teenager when he had phenomena occur in his own home. In the seventies, he was a member of the paranormal research group "Parapsychology Investigation & Research Organization", out of RI College.
Keith has been featured on the SciFi channel's "Ghost Hunters", as a consulting demonologist, and both he and Sandra are former core members of "The Atlantic Paranormal Society (TAPS)".
They have been featured as demonology consultants in two first season episodes of the A&E series "Paranormal State" as well as assisting with documentaries dealing with the paranormal including New Gravity Media's "14 Degrees". The pair are co-founders of "New England Anomalies Research (NEAR)" and host a local TV talk show dealing with paranormal topics called "Ghosts R N.E.A.R." which airs locally in Rhode Island and can also be seen online.
Keith is the author of the 'Paranormal Realities' book series that chronicle his experiences as a paranormal investigator. Book 1 has been published and subsequent books are in the works and due for future release.
---
Episode 21 - True Ghost Stories
Last nights show had to be rescheduled due to personal conflicts, so we're back tonight telling our favorite ghost stories, and announcing some awesome upcoming guests.
---
Episode 20 - Vampires, Witchcraft and more..
We're getting geared up for Halloween! This week we discussed Vampires, Witchcraft and more!!
---
Episode 19 - What makes something haunted?
Josh and Al prove once again why they are the bipolar paranormal radio show, as they bounce from discussing paranormal specialists to what makes something haunted, religious holidays, and upcoming events.
---
Episode 18 - Authors Mark Nesbitt, Patty Wilson and high-tech ghost guru Scott Crownover
Mark Nesbitt worked for the National Park Service as a Ranger/Historian for five years. His published works include the popular "Ghosts of Gettysburg" Series. In July of 2004, his Ghosts of Gettysburg Series received the National Paranormal Award for "Best True Hauntings Collection" and "Best 'Local Haunt' Guidebook". The Ghosts of Gettysburg stories have been seen, and/or heard, on The History Channel, A&E, The Discovery Channel, The Travel Channel, Unsolved Mysteries, Coast to Coast AM, regional television and radio programs, and in local newspapers and publications. Stories from the Ghosts of Gettysburg book series spawned the Ghosts of Gettysburg Candlelight Walking Tours® in 1994, which was named the 2009 #1 Ghost Tour in the World.
Author Patty A. Wilson shared the stories of Eastern State Penitentiary on Mysterious Journeys on the Travel Channel. The episode revisited the most notorious prison in the nation and chronicled the history. You may also learn more about Ms. Wilson's paranormal adventures at: ghostchannel.tv or ghosttalkers.net Ms. Wilson will also be featured on Mysterious Journeys on Oct. 28, in the Salem, Massachusetts episode.
Patty and Mark co-authored Pennsylvania Ghosts.
Scott Crownover is co-founder of Ghost Research Foundation, author, paranormal researcher and inventor of the crownover method of spirit photography. Crownover is featured in the premiere episode with historian and author Mark Nesbitt in the Gettysburg episode.
---
Episode 17 - Special Guest Kelly M. Ballard, Medium, Intuitive, Usui Reiki Master and Teacher.
Kelly M. Ballard is a fourth-generation Medium and Intuitive and has more than a decade of professional experience in the alternative healing arts. She holds a Bachelors degree in English from the University of Albany in Albany, New York, and is a certified Usui Reiki Master and Teacher. Kelly provides private consultations nationally and internationally and does so with a blend of kindness and good natured humor. She is open-minded and non-judgmental in her work; welcoming all with discretion and confidentiality. Kelly also provides a range of workshops to include Intuitive & Mediumship Development, Reiki (Levels 1, 2, A.R.T., and Master) and various workshops covering a number of interesting topics. She has been a guest speaker and lecturer invited to speak for businesses of all sizes, community organizations, universities and state and local police departments. Kelly's student, Danyelle Barrett will also join us. She is an English teacher, a mother to a seven year old son and a three year old Shih Tzu, a Usui Reiki Master and a Medium.
---
Episode 16 - Special Guest John Kortum
John Kortum, Founder of the Kortum Technique of Medical Assessment, will discuss this new technique, his video series, his work with the Monroe Institute, and much more.
---
Episode 15 - Paranormal Groups
Is it possible to be a "specialist" in paranormal investigating?
---
Episode 14 - Open Discussion
A little bit of this, little bit of that!
---
Episode 13 - UFOs and EVPs
Unfortunately, our scheduled guest got called away to investigate a haunted castle, so we made a show on the fly! We discussed UFOs and EVPs, plus more info on the upcoming events.
---
Episode 12 - BiPolar Paranormal Radio
---
Episode 11 - Paul Rademacher, Author & Exec. Director of Monroe Institute
This episode we were joined by Paul Rademacher, Executive Director of the Monroe Institute and Author of "A Spiritual Hitchhiker's Guide to the Universe: Travel Tips for the Spiritually Perplexed". Don't miss this show!
---
Episode 10 - Ghosts of Deadwood with David Soma & Kathleen Lane
---
Episode 9 - Kids, Ghost Hunting, & Cryptozoology
On this episode we discussed children and ghost hunting...do they go together? The second hour we talked about Bigfoot, Thunderbirds, the Loch Ness Monster and more.
---
Episode 8 - Urban Legends
We discussed Urban Legends and Cryptozoology.
---
Episode 7 - Darkness Radios Dave Schrader
---
Episode 6 - Various Topics
Happy Birthday to Al show!
After taking a week off, we'll resume in our new time slot! We'll pick up discussing the paranormal photographs that we didn't get to in Episode 4, some investigative journalism by Al, maybe have some big announcements from Josh, as well as a special guest or two.
---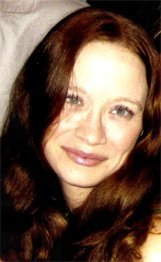 Episode 5 - Special Guest Co-Host Gemini Rose
GeminiRose sat in for Josh this week, and she had no idea what she was in for!
GeminiRose is a psychic medium with a wide range of psychic senses that she uses to obtain messages and information. Her strongest are clairsentience (clear feeling) and claircognizance (clear knowing). She has been giving psychic readings for eight years. Like many intuitives, Gem became aware of her gifts as a child. Then, nearly a decade ago, she decided to delve into exploring them further from a spiritual and self-growth perspective.
GeminiRose is also host of her own radio shows on both BlogTalkRadio and MixTalk, and we're proud to have her with us.
---
Episode 4 - Paranormal Photography
This week we discussed paranormal photography! Josh explained about orbs, matrixing, and we went down a list of photos as he debunked and validated them! Visit our photo gallery to follow along. http://www.hauntedamericaradio.com/photos/thumbnails.php?album=3
---
Episode 3 - Special Guest Michael Baker
---
Episode 2 - Special Guest Ron Kolek (NEGP)
This episode Ron Kolek of the New England Ghost Project will be our guest. He has been an investigator for over 10 years, and is the host of both "Ghost Chronicles" and "Ghost Chronicles International", two highly popular internet radio shows.
First, we'll start at the beginning. What is a haunting, what are the different kinds of hauntings, and how can you tell the difference.
---
Episode 1 - Premiere Episode
---